69
Watermark is a logo or identity of the owner who creates a work or content. Watermark is also a copyright owned by a content creator with the aim that his work is not stolen or claimed by others without permission. This does not only apply to content creators and also applies to writers or bloggers in expressing ideas or text information that is conveyed to many people who enjoy the reading.
It focuses on watermarks in use to create digital products such as e-novels, e-books, or similar digital or electronic documents where digital documentation works often result in theft of written content without the permission of the author himself.
Now, the Google Docs (Documents) service has provided the latest default feature, namely Watermark which can make it easier for you to provide a logo that can protect your writing from theft of your written content from others without your permission.
The author provides a tutorial for adding watermarks to your product or writing in Google Docs by using the built-in Watermark feature of Google Docs itself.
STEPS
1. Visit the Site Google Docs.
2. Perform logins in general correctly.
3. Select the digital document file that you want to watermark.
4. Click Insert >>> Watermark to add a watermark to your product in Google Docs.
5. Click Select Image.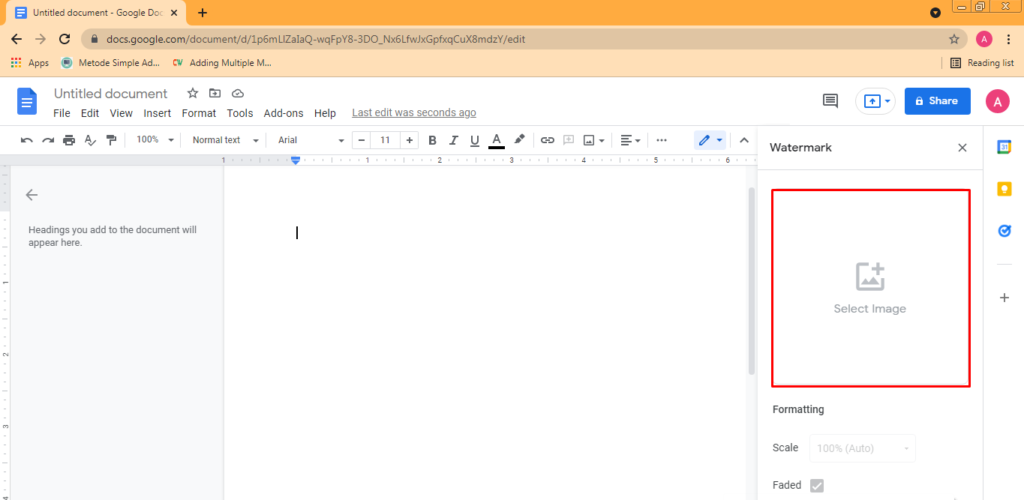 6. Choose your own image or logo that you want to include in your digital paper. The author only provides sample images. After that, click INSERT.
7. Click Done.
8. Here are the results.
Finished.
With this service, there is no need to add watermarks to worksheets during the process of creating digital writing products in Google Docs. Although, this Watermark feature can only use images so you need to create a logo or image that can strengthen the copyright of your product or work.
CLOSING
You can add watermarks to worksheets by using the built-in features of Google Docs that can protect your writings from content theft or content from these products if published online such as online publishing services.
READ OTHER ARTICLES