1
This article discusses how to use the currency format as needed in making a budget, financial reports, proposals related to finance, and other financial matters using Google Sheets. Each country must have a different currency system such as Rupiah (the currency of Indonesia), Ringgit (the currency of Malaysia), and so on.
To make financial reports as above, you must use office applications that function as spreadsheets such as Microsoft Office, Google for Workspace, and so on. The author focuses on how to use the currency format in Google Sheets. Google Sheets is a spreadsheet application that is most often used by remote communities.
The author provides a tutorial on using the currency format in Google Sheets according to your needs in making reports or documents related to finance. The default currency format is United States Dollars ($US) and can be customized according to your needs. There may be some currencies that are not already entered into the Google Sheets system.
Attention, this tutorial does not use the Formula command code at all so it is very easy to format the currency in the Sheet for making financial reports.
STEPS
1. Visit the site Google Sheets.
2. Login by entering the correct email and password.
3. Create a new Sheet or select an existing Sheet.
4. Select or block the cells you want to format the currency in the Sheet.
5. Click Format >>> Numbers >>> Custom currency.
6. Choose the currency format that suits your needs, click Apply.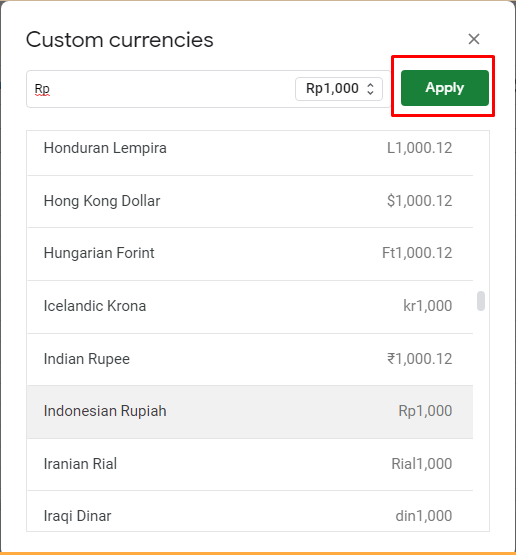 7. Type a number in the cell where the currency format is set and press Enter.
8. Here are the results.
Finished.
When editing the value or nominal in the same or different cell but the other cell has been set to currency, it will immediately change to currency automatically.
So, you can customize in determining the currency format you want into financial-related reports or documents such as Income and Expenditure Reports at company XYZ by using Google Sheets which can be made online without using additional applications.
CLOSING
You can create a report or digital document related to finance with Google Sheets which can set the currency format according to your needs. This is expected to be easier because reports or documents can be made online and on various hardware or platforms.
In addition, Google Sheets can save financial report data automatically if there is a change in the contents of the data so there is no need to worry if the data is lost due to a power outage.
READ OTHER ARTICLES